The Drop-in Youth Center is the heart of Life House. Most often, it is the first point of contact for youth accessing our supportive services. Upon walking through our door, all youth engage with an intake interview to determine their needs so we can refer them to the appropriate services.
Hours: Youth ages 18 to 24
11:00 a.m. to 1:30 p.m. except Wednesday, which is 12:00 to 1:30 p.m.
Hours: Youth ages 14 to 20
3:00 to 6:00 p.m. Monday through Friday
Meals available daily, laundry, basic needs supplies, showers, lockers and Wi-Fi.
There are also activities, groups, field trips, and more that happens throughout the week.
Life House offers a path to housing stability for youth who are homeless or walking through life transitions. The Housing Program has 50 units with supportive case management throughout the Duluth community. We work to prevent homelessness, which includes emergency rental assistance, advocating with youth regarding landlord and utility company matters, support youth with move-in assistance and handle rapid rehousing if needed.
The Loft Emergency Shelter
Providing Shelter and Compassionate Care
Located on the top floor of the Life House building in Downtown Duluth, The Loft is a 10 bed emergency shelter for youth ages 15-19. Youth staying in our shelter have immediate access to our wraparound supportive services and all programs.
For more info about The Loft Shelter, contact:
Melisa Gomez-Romo
The Loft Supervisor
melisa.gomez-romo@life-house.org 
(218) 722-7431 ext. 155
Mental Health and Wellness
Life House Mental Health & Wellness program provides daily support and on-going services to improve physical, mental and spiritual wellness. Life House retains licensed therapists as well as alcohol and drug counselors for youth that require no payment or insurance for services.
Our practitioners use an ACT (Assertive Community Treatment) holistic service model. In coupling therapy with intensive case management, this model helps youth improve their overall wellness along with obtaining life skills, stable housing, employment, education, learning parenting skills, and building connections to community resources.
The therapeutic intervention strategies are based on Trauma-Focused Cognitive Behavioral Therapy (TF-CBT) protocols. Aligned with evidence-based research, TF-CBT is a treatment model that incorporates several core components designed to address the unique needs of youth with post-traumatic stress disorder (PTSD) symptoms, depression, and other difficulties related to traumatic life experiences.
Futures
Youth who may have been expelled or dropped out of school, who have little to no job experience, or who simply want to further their education and employment skills are welcome to participate in this program.
We offer unconventional alternatives to mainstream education in our on-site classroom.
We know our youth come from an array of educational backgrounds and they are all at different places on their path. By making educational goals, they can find the best path forward given their life experiences.
Life House offers an online GED Preparation program to meet the needs of busy youth who may be juggling jobs and children of their own where they find it difficult to find time to attend traditional seat-based classes. Youth enrolled in the program can study on their own and/or get support with individual tutoring sessions to prepare for their GED's. Life House pays for GED tests.
If youth are interested in enrolling in school or transferring to another school, our staff help them navigate the process and the paperwork. We also offer tutoring and educational support as needed.
For any youth interested in enrolling in college, we offer assistance with the whole process, which may include completing college applications, financial aid applications and forms, setting up meetings with advisers, college tours, obtaining school supplies, and ongoing educational support with classes.
Toward financial independence and stability for the future.
Life House's Employment Program, Legitimate Hustle, targets youth who have multiple barriers to obtaining economic self-sufficiency. We provide comprehensive case management and job training—in an environment that helps youth to gain essential employment skills, become stable in their recovery or overall well-being, and transition into career opportunities. The Transitional Employment Case Manager assists our youth with resume building, interview skills, transportation to and from interviews, connecting with local businesses, and any additional ways of assisting with pursuing employment opportunities.
If you're interested in visiting the Legitimate Hustle Limitless Candle Shop, visit our online store, lifehouselhp.org, or stop in at our storefront, located at 21 N. 1st Ave. W., from 12:00 p.m. to 4:00 p.m. Monday through Thursday. 
Safe Harbor
Life House Safe Harbor Program provides a continuum of care for all youth who are survivors of sexual exploitation and/or human trafficking. We connect survivors to supportive services both within Life House and out in the community as a way to support them in healing from their traumas and lived experiences.
Sol House
Sol House is a house for survivors of sexual exploitation and the centerpiece of our Safe Harbor program. This is a licensed program that is staffed 24/7, where up to six youth can live there at any time.
Supportive services include trauma-conscious therapy, education and employment support, substance abuse counseling, and daily activities.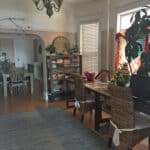 Northern Lights
Additionally, Life House opened Northern Lights in 2020, which is an 8 unit transitional housing program for young adults and young families who are survivors of sexual exploitation and/or human trafficking. A case manager works closely with residents to ensure they are connected to the necessary resources at Life House and/or in the community.