THANK YOU TO EVERYONE WHO JOINED US FOR A Wholehearted
Evening of celebration and joy!

                                                                            THURSDAY ~ MAY 18, 2023

Join us for an evening to honor the courage and dedication of our youth,
who live with an open heart even during challenging times.
We pause to witness the beauty of walking a path of
living wholeheartedly and pursuing dreams. 
Get Your Tickets Today – Click Here
Check out the Raffle Packages – Click Here
Where: DECC Harbor Side Ballroom
When:  5:30 p.m. – Social Hour with music by Sonja Martin, savory appetizers, an enticing                                             raffle, and conversations with community members to build connections.
              6:30 p.m. – Program with Valedictorian and Guest Speaker Sam Zimmerman
Tickets: $40/ per person
Raffle Tickets: $20 per ticket – cash and debit cards only

About our Guest Speaker: Artist and educator Sam Zimmerman / Zhaawanoogiizhik is a direct descendant of the Grand Portage Band of Lake Superior Chippewa (Ojibwe). He began participating in juried and solo exhibitions immediately after receiving a bachelor of fine arts degree in studio art from the Rochester Institute of Technology in 2000. At first, painting was a part-time activity while he worked as a special education and school and district administrator. When he returned home to Minnesota after almost two decades on the East Coast, he rededicated himself to painting with a ferocity that had been absent since his earlier studio days. Today Zimmerman's work is held in private collections in the United States and abroad.


Photo below: Musician Sonja Martin  and Sam Zimmerman's Book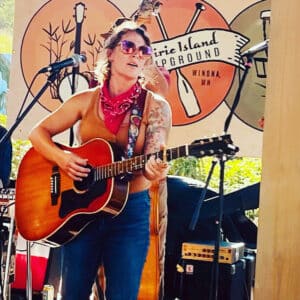 A Special Thank You to Our Sponsors
LISC Duluth     Essentia
Hanft Fride Law Firm      Duluth Chamber of Commerce